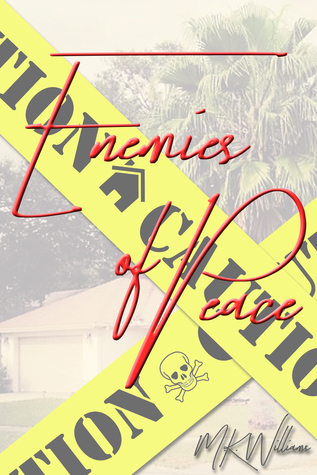 MK Williams has a new book out tomorrow, Thursday 9 November 2017.
In 2016, I was introduced to MK by Priya at Writerly Yours when I participated in the Nailbiters blog tour.
Here is the synopsis of the latest exciting thrilling read from MK Williams:
Enemies of Peace
Enemies of Peace literally starts with a bang: an explosion captured by two teenage girls of a house engulfed in flames. In the summer that led up to the explosion, the Hydroline Corporation hired Timothy Lawson and his firm to represent them in a class-action lawsuit. While juggling his caseload, he and his wife Cynthia decide to buy their first house. It should have been the happiest summer of their lives. Nevertheless, their date with death was looming.
Who could have possibly done it?
Could it be the corporation that Timothy was defending, did he uncover one secret too many?
Could it be the cousin that Cynthia has forbidden Timothy to talk with anymore?
Could it be the other man who is in love with Cynthia, his jealous rage driving him to kill?
Or, could it be the quiet neighbors next door, the unsuspecting extremists living in American suburban splendor?
---
Reading Goals Update
I am currently reading Enemies of Peace. By the end of the month, I will share my full review of MK Williams' newest book.
Thanks MK for sharing your work and keep on self-publishing and living your dream.
We are nearing the end of 2017, how are you with your reading goals?  Are you happy with your progress this year?
Share in the comments.
For me, I am behind in my reading schedule outlined on Goodreads.  And I already know that I won't hit the 80 books read mark in 2017. To date I have read 63 books.
I am reading slower this year and I read more books that I genuinely enjoy. And I am being ruthless in DFNing books.
Happy reading!