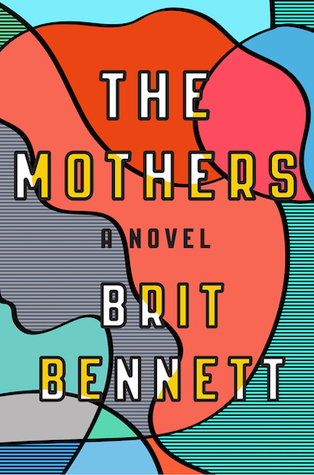 The Mothers by Brit Bennett opens with what for other books would be the big reveals. Seventeen year old Nadia Turner's  mother died and Nadia has hooked up with the pastor's son Luke Shepherd and gets pregnant. Nadia is smart and while grieved, young, naive and scared, and she is absolute in her decision to get abortion. These aren't spoilers, I promise, The Mothers isn't too concerned with plot twists and action it is a character driven story and I loved it.
Set within a contemporary black community in Southern California, Brit Bennett's mesmerizing first novel is an emotionally perceptive story about community, love, and ambition. It begins with a secret.
All good secrets have a taste before you tell them, and if we'd taken a moment to swish this one around our mouths, we might have noticed the sourness of an unripe secret, plucked too soon, stolen and passed around before its season.
It is the last season of high school life for Nadia Turner, a rebellious, grief-stricken, seventeen-year-old beauty. Mourning her own mother's recent suicide, she takes up with the local pastor's son. Luke Sheppard is twenty-one, a former football star whose injury has reduced him to waiting tables at a diner. They are young; it's not serious. But the pregnancy that results from this teen romance–and the subsequent cover-up–will have an impact that goes far beyond their youth. As Nadia hides her secret from everyone, including Aubrey, her God-fearing best friend, the years move quickly. Soon, Nadia, Luke, and Aubrey are full-fledged adults and still living in debt to the choices they made that one seaside summer, caught in a love triangle they must carefully maneuver, and dogged by the constant, nagging question: What if they had chosen differently? The possibilities of the road not taken are a relentless haunt.
In entrancing, lyrical prose, The Mothers asks whether a -what if- can be more powerful than an experience itself. If, as time passes, we must always live in servitude to the decisions of our younger selves, to the communities that have parented us, and to the decisions we make that shape our lives forever.
Review 
I said in my April wrap up post  that this book reminded me of Toni Morrison. Let me explain how and why.  The Toni Morrison comparison is in the story narration structure. The narrator for the most part is one of the Upper Room church mothers, the gossipy elder women of the church who serve as the morality police of the church community. There is a feeling to sitting back and listening to someone gossip or whisper the juicy scandalous bits of someone's life, I got that same sensation of being an outsider intrigued by but never knowing the full story when I read Jazz by Toni Morrison. That is where the Toni Morrison comparison stops.
Brit Bennett writes a compelling story of people. Very ordinary people. There is also an intimacy that the story pulls me in after only a few pages and me genuinely concerned for Nadia well-being. She is hurt and confused and yet she is holding fast to her hopes of leaving her small community of Oceanside in Southern California.
The narrator isn't named or revealed it is and the story is layered and fluid. We begin with Nadia, then we touch on her relationship with Luke, she she Nadia start a friendship with Aubrey, we meet Nadia's father and his sufferings and soon there is the extension of the community and the church and it is this slow expansion and introduction of characters and their experiences that give this book its depth and texture.
We see love blossom and grow. One my favourite aspects of The Mothers  was experiencing the bond that only close sisterhood among friends when Aubrey and Nadia grow close.  There is something beautiful about that exploration of friendship and how distance that is created by the passage of time, the expansion of worlds and growth and experiences can simply loosen bonds but never quite break them. It is the subtle and impactful transitioning where we move from the teenage Nadia in Southern California longing for a time in the distant future where she is no longer hurting. We she her grow and leave the community, almost afraid to return because of the pain associated with her home. At the end of the novel our Mother narrator estimates that Nadia is in her 30s. The Nadia-Luke-Audrey dynamic and relationship is interesting in its simplicity. The reader is really following the three of them as they grow, falter, change, resist change and heal, fall apart in new way and stay bruised. The Mothers is an exploration of ordinary people and a study of relationships.
There is a small matter of abortion and a tug of war of sorts of pro-life versus pro-choice and whose right to choose that is pulled apart and revisited time and time again in the novel and I could have done without this.
Who I'd Recommend This To
If you read any Toni Morrison books then I think you would love this. The racial distress of the African American and cruel realities of life aren't present in this book. It is about grow and the struggle to grow and change and the call or pull/longing for home that is often at odds when there is that call to expand.
It is a short book, under 300 pages and it won't take long to get through.
If you have read The Mothers, what were your thoughts? Did you like it? Let me know.
Until next time, happy reading!